Students stay sharp in journalism at CJI
When I first arrived at the Marriott Hotel in Columbia to attend the Carolina Journalism Institute, I was both excited and terrified. I was terrified that my roommates wouldn't like me, that I'd do terrible in my Converging Media's class, and whether or not I could really take care of myself for an entire week. But at the same time I was excited to be meeting new people, to be able to make my own decisions, and to be learning more about websites. Back then, as I stood in  front of those sliding doors, I wondered if I'd made the right decision in agreeing to attend. But looking back I know I did. I met the most amazing people, learned the most amazing things, and created memories that I'll treasure for years to come.
Seeing as I was to take over as webmaster for my high school newspaper's online edition, I signed up to take the Converging Media's course. This course taught me how to design,create, and produce for my own website.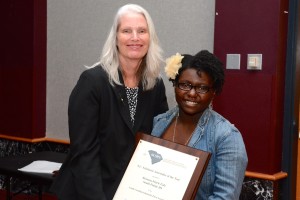 Each day we were given an assignment that would eventually turn into an entire package, which we were meant to showcase at the awards ceremony at the end of the week. In addition to making our own websites, we each were creating online packages to to post on the Converging Media's class group website. I really enjoyed doing assignments because I was able to wander around Columbia and talk to people I met on the streets.
Another thing I enjoyed about CJI was that I got to share a room with three other girls; it was like a college experience. At first I was a little worried that I wouldn't like my roommates and they wouldn't like me, but after a few hours together we were all best friends. In the mornings we would fight over who would go use the bathroom in which order and if someone stayed in past their time, we would joke about how we should have made them go last. My roommates became like sisters to me, we spent lunches and dinners together, even though we all had separate classes, and we would show up in each other's classes just to mess with each other.  And on the last day of CJI we swapped numbers so that we could keep in touch with each other.
CJI was an amazing experience for me. I learned so much from my class, all of which I was able to bring back and incorporate into my school newspaper's website. I enjoyed every second of CJI,from the cool teachers all the way to the goodbyes. I'll never forget any of it. The week I spent there helped me to grow, not only as a journalist but as a person.  And if I had the chance I'd go every year it's hosted for the rest of my life.
As far as what I accomplished with my training and support, you can check out SPiN Wired at www.spinwired.com. I was surprised to be named the Journalist of the Year a few weeks ago. As I revised my winning portfolio for nationals, what did I rely on? My CJI class and a few mentors from Columbia. CJI does not end when the camp is over!