Alabama Mentors and Mentees note progress in their journalism programs
By: Nora Stephens, Mentor
Third-year mentee Michelle Sisson at Lee High School, Huntsville, Ala., has made tremendous strides in establishing a viable, literary magazine. This year has been especially memorable since she and her small creative writing class have put together a school-wide magazine, Harmonious Lee, featuring both art and writing from students throughout the school.  During the first two years, her class found little response from the student body and published their own work in a mini-mag. However, perseverance and cooperation from a design teacher at Lee have brought success. Michelle is the epitome of optimism from a young teacher who has made a difference in the attitudes of her staffs, inch by inch.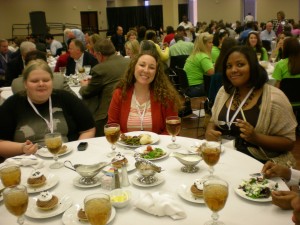 First-year mentee Robert Mills at Academy for Academics and Arts Middle School, Huntsville, Ala., and his yearbook staff took the shift to laptops across the city system as a theme cue and created an amazing book which mimics the laptop style, including a cover which opens from the side and is the same grey as the computers they use. Although the staff had quite a challenge hand manipulating the photos on each page, Robert says the results are worth it, and he is already anticipating next year and planning to enter the book in state competition.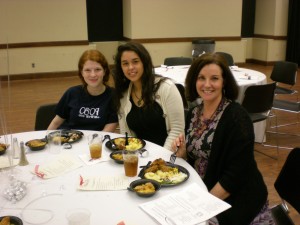 First-year mentees Neena Davis and Nicole Schwartz at Huntsville High School, Huntsville, Ala., also have felt the pressure of curriculum and technology changes as they worked with their newspaper staff. The addition of a broadcast class during the same period as newspaper cost them some staffers.  Neena has decided not to work with the newspaper next year because of the increased demands on her as business department chair.
When the superintendent announced prior to spring registration there would be no credit for student publication staffs, the outcry was sufficient to return the elective credit. However, the advisers must be certified English teachers. Nicole will remain with the newspaper and will probably be assisted by one of the first-year English teachers. We are planning a mini-workshop before school opens to introduce new staffers to journalistic style and other components of newspaper production.
By: JoAnn Hagood, Mentor
SECOND-YEAR MENTEE AND SECOND-YEAR ADVISER ASHLIE FLOWERS, Memoirs yearbook at Clarke County HS, Grove Hill, Ala., has been inundated with additional responsibilities this year, including doing the accreditation report for the entire school system. Yet she has managed to juggle everything and keep her yearbook staff moving forward.  She has inspired her students to be dedicated staff members, and many returned after graduation to complete the final yearbook pages.  Ashlie has updated the yearbook design and improved the finances. In fact, her staff had record advertising sales. She incorporated new ideas from materials JoAnn was able to provide from national and state conventions. JoAnn said she expects the 2012-13 yearbook to be the best one the school has ever had.
FIRST-YEAR MENTEE AND FIRST-YEAR NEWSPAPER ADVISER AT THEODORE HS IN THEODORE, ALA., APRIL MCGUFF began the second semester with a new staff, and with Hagood's encouragement, turned over the layouts and design to her staff.  This made advising manageable and gave her students the opportunity to learn and use InDesign.  April took her staff members to their first journalism workshop in April, and the staff published their final issue online in May. JoAnn said she is proud of the progress April has made and expects her to become an outstanding adviser.
Leave a Comment