North Carolina Mentee makes strides as educator and leader of journalism program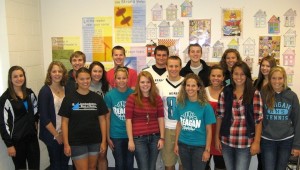 Second-year mentee Amber Bryant, adviser of The Rooster newspaper at Ronald Reagan High School, Pfafftown, N.C., is in her fourth year of advising student publications and teaching journalism and her seventh year as an English teacher. One of Amber's challenges has been adapting to new schedules and new course preparations each year before this one. This year she has been able to enjoy building on successes with the same courses and similar plans to last year.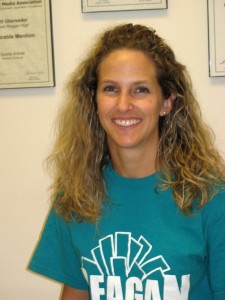 Next year she will teach one section of Introduction to Journalism (rather than the two she had this year) and the newspaper production class. A new yearbook adviser will teach the other Introduction to Journalism section, and Amber will help him with journalism curriculum and resources.
Last summer the school purchased a class set of a new journalism textbook (2009) to replace outdated texts for the Introduction to Journalism classes. Although the texts will be shared between two teachers next year, Amber has worked on adapting the solid instruction in journalism skills and ethics with new material she will share with the new teacher to help him plan.
Although software and hardware technology needs continue, in the end of year conference with Amber and her principal, the principal pledged support for replacing the old laptop cart and upgrading the software.
Amber has worked to help students develop leadership skills. She helped them understand how the unsigned editorial for a school newspaper could provide powerful leadership in the school. Students were encouraged to "take the pulse" of the school by holding occasional press conferences with administration officials and others in the school.
To help involve and direct students in the planning and production of the newspaper by producing a staff handbook is future goal. A handbook will help put more responsibility and ownership for the newspaper's operations on the students. Another goal is to increase reader involvement in the newspaper by producing an online edition of The Rooster. Students in the newspaper publication class launched a WordPress version of the newspaper in the fall but plans for continuing the online version are uncertain for next year.
Amber is committed to continuing to build a strong and successful journalism program at this young school. Reagan HS opened in 2005. We have talked about the advantages of collaborating with other journalism teachers in the school system, in the region, state and country to learn, grow and create a supportive community of professionals and the similar advantage for students of meeting and collaborating with other student journalists beyond their school walls.
Leave a Comment