Joining Generations Multimedia Contest
JOINING GENERATIONS
MULTIMEDIA CONTEST 2015
Win a $750, $500 or $250 scholarship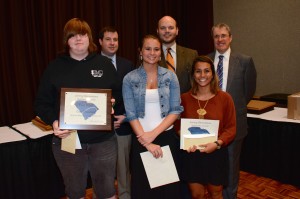 Get published
Older people in your family and community have great stories, and they love to share them. They especially love to share the stories with today's youth. If you are a student who works on a high school media staff, or staffs, – grades 9 through 12 – you can interview one of these individuals and tell his or her story through words and visuals, win a $750, $500 or $250 scholarship AND get published online.
See article by last year's winner, Daniel Sheahan of Brashier Middle College Charter HS:
https://schopressonline.org/scspa/2014/07/10/multimedia-project-brings-musicians-from-different-generations-together/
How to create a multimedia package:
A multimedia package consists of two components: 1) A full text-based story and, 2) An accompanying piece of multimedia. The text piece should stand on its own and be written in typical journalistic style. In other words, even if the multimedia piece was not present, the text gives the reader a complete story about the subject. The purpose of the multimedia is to add even greater depth and detail to the text story. For example, if your story is about the musical abilities of your subject, you may choose to create a short video of him/her playing an instrument and discussing his/her passion for music.
Text: Interview anyone over the age of 60 in your community. Use the information you gather to write either a feature story about your subject or an article centered on his/her insights on a contemporary issue. Writing portions should be 500 to 750 words.
Multimedia: The accompanying multimediashould reveal personality, emotion or details. Produce a multimedia piece (a compelling photograph, a slideshow, a short video, a chart, an audio clip, or whatever else you would like) to accompany the story you have written. Any software can be used to produce the piece, including, but not limited to, iMovie, PowerPoint, SoundSlides, Audacity, Acrobat, or the Adobe Suite. Multimedia pieces should be between one and two minutes.
DEADLINE:
Packages (text and multimedia) must be submitted by 11:30 p.m. MARCH 29, 2015.
All entries should be submitted via email to [email protected].
If video/audio is used, you may provide a link to the piece (YouTube, Vimeo, etc).
With your submission, include your full name, school, teacher's name and publication name.
Awards:
1st place: $750
2nd place: $500
3rd place: $250
Awards will be presented at the SCSPA Spring Conference April 27, 2015.
Publication:
All winners will be displayed on SchoPress online (schopressonline.org), the SCSPA University of South Carolina webpage (scspa.sc.edu) and the BG TIME (Bridging Generations with Technology, Information, Media and Engagement) website.
*Funding for the scholarships is provided by the Central Carolina Community foundation.
– See more at: https://schopressonline.org/scspa/2014/03/10/joining-generations-multimedia-contest/#sthash.6DICwG59.dpuf
Using this project as a class assignment:
We encourage advisers to make the Joining Generations Multimedia Contest a class assignment. Get your scholastic journalists out of the classroom and into the community and give them experience interviewing someone from a different age group.
We will provide a biographical unit assignment complete with a grading rubric and examples upon request.
Contact Karen Flowers at [email protected]
Leave a Comment