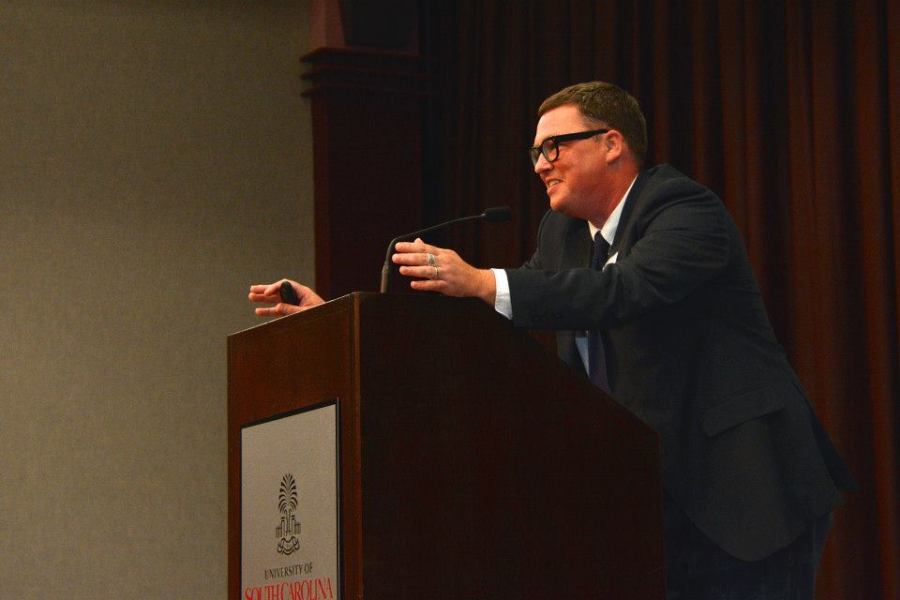 by Lauren Harper
As the largest group in five years, 674 students and advisers flooded the University of South Carolina's student union, the Russell House, for the 2014 Fall SCSPA Conference Oct. 6.
The 60 advisers and 523 students represented 36 schools from across the state and brought with them plenty of energy and excitement for the day's activities of sessions, a keynote and awards for literary magazine and yearbook staffs and an adviser rising star.
The keynote speaker was Chris Waugaman, all-media adviser at Prince George High School in Virginia.
Waugaman, who was named the Dow Jones News Fund National Journalism Teacher of the Year in September, talked about the importance of creating a "media family" for publications in high school. Using clips from the early '70s Brady Bunch TV show, Waugaman showed staffs how they can blend a group of students on different staffs to create a comfortable and productive environment, just like the two families that formed one on the Brady Bunch.
"The keynote address was really fun, and I loved that the speaker used 'Brady Bunch' clips because that's my typical Saturday morning when I'm laying in bed," said Libby Pence, news editor of The Prowler newspaper at Carolina Forest HS in Myrtle Beach. TV land and old sitcoms is life!"
And with any SCSPA conference come awards.
This fall's winner of the Most Improved award for literary magazines was South Pointe HS's Impulse. The Most Improved award for yearbooks was Wando HS's Legend.
Taking home the big prize for Best in State were Nation Ford's Voices for literary magazine and Mauldin's Reflections for yearbooks.
Four up-and-coming advisers were introduced as nominees for the Bruce E. Konkle Rising Star Award, an award that originated at the SCSPA 75th anniversary in 2011.
The nominees were Brennan Davis, adviser of The Stinger newspaper at Irmo HS; Jennifer Erxleben, adviser of Ursa Major yearbook at South Florence HS; Brian Garvin, adviser of The Final Draft literary magazine at James Island Charter HS; and Cynthia Lawson, adviser of The Outlet literary magazine at Wando HS.
Dr. Konkle, himself, presented this year's Rising Star award to Jennifer Erxleben.
In terms of how SCSPA benefits students and advisers, the length of the conference seems to work well.
"It's more affordable for those students who can't spend a whole weekend away from home," said Brittny Meekins-Ervin, adviser of Mannuscript newspaper and Talismann yearbook at J.L. Mann High School. "The conference also has a "speed-dating" feel (for lack of a better phrase) in that one is able to get the most specific information in a short amount of time without all of the filler."
Students enjoyed the length of the conference, as well as the information, experience and insight they gained while attending.
"I was hoping to find new ways of writing and coming up with interesting stories, said Grace Timmons, a first-time SCSPA attendee from Carolina Forest High School. "Going to the conference definitely helped me with looking at a story idea from different angles."
In addition to the knowledge gained from attending the conference, schools also gain helpful feedback on their publications to continuously improve them.
"We were so excited to receive a superior rating!" said Lea Ann Williams, adviser of The Compass at Christian Academy. "They are going to frame a picture of my staff with the award and put it in a TROPHY CASE at our school! Usually it's all sports!"