Summerville senior named Journalist of the Year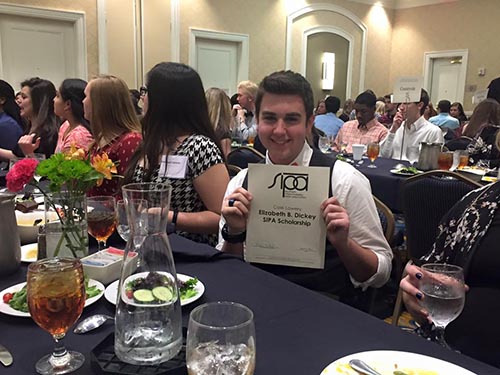 Cole Lowery is on an award-winning staff boasting Scroggins and Pacemaker awards. He's won the Elizabeth B. Dickey Scholarship from SIPA. He's run social media accounts and produced ads for numerous local businesses. But now he can add South Carolina Journalist of the Year to his resume.
Cole, a senior at Summerville High School, was named the South Carolina Scholastic Press Association's Journalist of the Year in early March.
"I was very confused at first because all of the sudden my teacher was asking to talk to my mom and I," Cole said. "Then when he handed me his phone and I saw Mrs. Leslie was calling I couldn't stop smiling because I knew there probably wasn't another reason she would call to talk to me."
Each year one scholastic journalist is awarded this honor based on his or her work with high school publications. JOY applicants tackle a major undertaking: creating an online portfolio showcasing their various skills and journalistic achievements.
Portfolios display writing, videography, photography, design, online/social media and entrepreneurial prowess. The student selected as Journalist of the Year receives $500 and recognition at the SCSPA Spring Conference.
"It's reassuring to see my hard work pay off, and now I have more confidence about my ability moving onto my future journalism career goals," he said.
Cole is a member of Summerville's daily broadcast show, WAVE TV, where he serves as one of the show's anchors. He also runs the show's social media accounts.
Along with serving as President on the SCSPA student board, he's also taught sessions at different conferences.
He has won numerous awards at SCSPA and the regional convention, the Southern Interscholastic Press Association. Awards include a Best in Show for Reporting a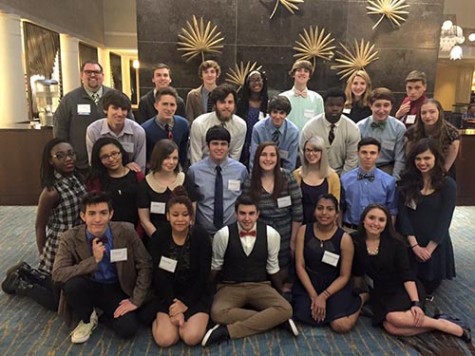 t SIPA and a Superior rating, also for reporting, at SCSPA.
At the national level, he was awarded Spring Story of the Year from the Academy of Scholastic Broadcasting and the National Scholastic Press Association.
Despite all the numerous individual and staff awards, Cole said this award sits at the top of his accomplishments.
"I would say it's the highest one on my list," Cole said. "I think it's a good representation of my work, since it's a compilation of most of my best works."
And through all of this, a love for scholastic journalism blossomed.
Cole will graduate this year and as he walks across the stage, his scholastic journalism career will come to an end. But that doesn't mean his journalism career will.
He plans on continuing his education at the University of South Carolina's Gamecock Gateway program before transitioning to South Carolina's main campus. He plans on majoring in mass communications and journalism with hopes of becoming a photojournalist for National Geographic.
He still has a little less than two months before graduation and for now he's going to soak in this achievement saying, "I know I'll treasure the award because to me it's another mark I've left on high journalism."