How CJI helps fight zombies: the adviser perspective
When Brianna-Marie Ealy received word that she had been named the 2013 Journalist of the Year by the South Carolina Scholastic Press Association, I don't think she really believed it.
Not only did she have stiff competition from other fine student journalists from around the state, she also had the two editors-in-chief of SPiN print and online versions trying for the honor. The three each had amazing portfolios and every single one of them wants to major in some type of journalistic field.
I will never forget how Marie looked at me after she got the call from SCSPA director Karen Flowers telling her she won. Marie grinned and said,
                 "Mrs. Koon, I think CJI made the difference."
-Brianna-Marie Ealy
Marie, along with one of our students from the Journalism I class, had taken me up last June on my usual spiel about why the Carolina Journalism Institute was well worth the time and money. I knew from personal experience that this intense summer camp is a perfect place to network with students and advisers from other schools in South Carolina and the Southeast.
Your mind and body are challenged as you run around the University of South Carolina's campus trying to complete media packages for class. It combines real fun with real learning, two of the things that make humans unique. It helps you wake up from the zombie state you entered grinding away until school ended – anybody else feel like the walking dead right now?Instead of being an add-on to the academic year, CJI helps resurrect your passion for journalism. Everyone I've ever talked to who attended, and South Pointe has had at least one or two students go each year, raves about what a positive, uplifting experience CJI was for them.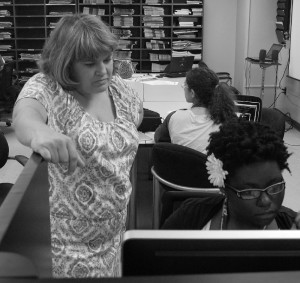 I have sent students who were well chaperoned and just fine on their own, and I have attended with a co-adviser and most of our staff years ago when I first started advising. Those times at CJI in the 1980s gave us time, opportunity and guidance to plan for the upcoming year. One year we did a complete redesign of our newspaper's print version in Columbia with CJI-on-the-spot advice. Students who attended without me quote from instructors or classmates as the CJI learning is shared throughout the school year.
One of the best things about CJI is that you're energized with new ideas and new skills for the upcoming school year. Marie put it this way in her essay for Journalist of the Year:
"A position as webmaster for the newspaper's online version opened up, and I found myself working as hard as I could to obtain it. I had only a little experience in working with websites and became skeptical about whether or not I could do it. But deep down inside I knew that if I didn't at least try, then online would die the same way it had that February when the webmaster left to take another class. So I decided no matter what happened, I would do everything in my power to keep online up and running.
"Thankfully, I didn't have to do everything on my own. I had a group of editors who were willing to work strictly for online, while all print journalists were required to contribute, a first. My adviser and principal were also very supportive and even arranged for me to attend the Carolina Journalism Institute during the summer. In that week at camp my knowledge on websites and how to run them expanded. Soon I was getting everything for the website up and running, along with the staff generating articles and packages."
You would not believe how many times I said to this rising senior, already at school and working away on computer during the teacher work days at the beginning of the 2012-13 school year, "Call one of your CJI buddies and ask THEM!" Marie knew I was hopelessly ignorant about online version of the newspaper. Every single student or group of students who had endeavored to do SPiN Wired had done so with no real training and without anyone to collaborate with. We were all too familiar with past failures and were clear on hopes for the future with the online version of the newspaper.
In the early days of the school year, Marie, still enthusiastic from her CJI experience, was positive she would be the one to bring the website up to the standard we all wanted, given we had hardly any money to work with. Sure enough, she was successful. It was not an easy road. There were times we all wanted to quit, Marie included.
But one thing CJI had taught her was perseverance and given her confidence that questions had answers and more importantly, there are knowledgeable people in SCSPA and SIPA at USC who would help you, even after camp ended.
                        "The mindset of CJI is what you really pay for."
I did two weeks at CJI back when Pagemaker and Apple computers came along. Seriously, we still had electric typewriters in our newsroom, but the co-adviser David Corley and I had talked the principal into one of those miracle machines. Today the challenge is online journalism and all of us learning to be platform agnostic with our storytelling. Honestly, it's time for me to get back to CJI for that comraderie only a really good summer camp experience like CJI can give you.