John O'Connor to share vast journalism experience with students at SIPA as Saturday keynote speaker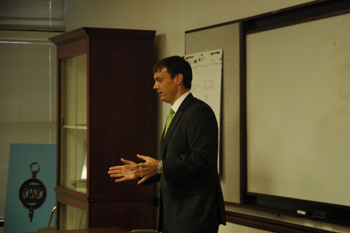 He caught Sanford at the airport, ready to confront him about the trip to Argentina. After listening to the press conference, reporter John O'Connor
was about to break the biggest story of his career.
Governor Sanford, supposedly hiking in the Appalachian Mountains, was actually in Argentina visiting a mistress unknown to his South Carolina constituents. John O'Connor was going to be The State reporter to break the story.
After working the politics beat at The State, O'Connor became the primary political reporter for the newspaper. A year into being the political reporter, the Governor Sanford affair story broke and he was there to cover it, not only for the print product, but for the newly emerging social media platform as well.
"That was one of my first experiences with social media, one of the first big experiences. He had the press conference before we could print that story in the paper. We broke the story about catching him at the airport but he had the press conference," O'Connor said. "So in part we broke that part of the story online and on social media. I tweeted a link to [the press conference story] right after we put it up and the thing started getting sent out everywhere."
The Sanford story opened up his career, opening up doors for him at the state and then for future careers.
"When you break a story like that, a lot more people start taking you seriously," O'Connor said. "The number of people that start returning your calls and reaching out with story tips, it does increase."
After reporting for The State, he moved on to StateImpact, a blog that covers education policy. O'Connor works for the Florida section, writing for the blog and for a radio show. Working in an online medium, he feels it's able to open him up, allowing him to write and go indepth on education issues.
"When you're writing for a site like StateImpact, which has a very specific focus, it gives you a chance to explore a topic in depth in a way you can't do when writing for a more general audience. A lot of our audience is education professionals, some of them are teachers. There are a lot fewer people who have no interest in education coming to our site. So we can get into the weeds on some things, which is great," O'Connor said.
While writing for the blog, he has been able to experiment with interactive graphics and videos, which he says gives it an edge on print media.
"It's using the web for things only the web can do. I think it's key in anything you are working on- use your medium for what it can do best. In the case of the web, that's what it can do best," O'Connor said.
O'Connor is well-versed in all type from media, from print to online to radio. With the emergence of social media and online media, he believes it is important for all journalists to have a wide range of marketable skills.
"If anyone is willing to teach you a skill you need to take them up on that offer. For a long time, newspapers looked a lot like they did 100 years before that, but in the past 10 years, we've seen that not much has changed," O'Connor said. "We've seen how the web looks but I think in three years the way journalism is done on the web is going to look very different. As a reporter, you have to keep up."
Since Twitter became a major platform for journalism, there have been numerous news channels and websites to come out and distribute incorrect information, damaging the publication's credibility. O'Connor believes that journalists should stick to the fundamentals to stop this from happening.
"You need to remind yourself of the basics. We see a lot on Twitter where people will start re-tweeting or send out bad information that we find out to be false. It is a good reminder that even if you could do it right now, you need to just cross the T's and dot the I's and make sure the information is nailed down and accurate before you send it out," he said.
He says that being right is better than being first in any situation and it helps sustain a journalist's credibility.
"Reporters should always be right. If you do your job correctly, most of the time you are going to be right. People remember when you weren't," O'Connor said. "You don't want that to be the reason they remember you. You want them to remember you for breaking the story and getting it right."
Leave a Comment