SIPA encourages learning, staff bonding
column by Michaela Baker, Student Officer Member at Large
Bonding does not happen within the classroom confines – it happens outside of it. In a journalism classroom we tend to only know the professional side of our peers. We get carried away with stories and deadlines that we forget to take the time to actually know the people we work with.
One of the best ways to accomplish staff bonding is through attending scholastic journalism conferences such as the Southern Interscholastic Press Association (SIPA) convention. Many publication staffs do not know what these conferences consist of and do not understand the important value they offer.
After attending two of these conventions, I can tell you events like SIPA have a huge impact on a scholastic journalist's career.
These conferences provide classes for students of all types of publications, offering valuable resources to take back to their publication or broadcast. Aside from learning, these conferences also offer a time to get out of the classroom.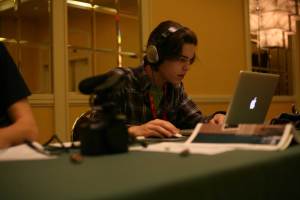 SIPA is a weekend-long convention in Columbia, South Carolina. One great thing about SIPA is, for most people, it is a mini get-away. Schools from across the Southeast come stay the weekend at a hotel that also houses the convention.
Not only are there sessions on all areas of journalism but there are also individual competitions students can enter. One area of competition is the team broadcast and newspaper on-the-spot competition. A set or group of students gets a prompt to create a story and have Friday and Saturday to work on it. On Saturday afternoon, the team has three hours to finalize the story and design for each competition. Other competitions include a grammar challenge, broadcast individual anchor and quiz bowl. Each competition provides another way for students to interact with each other and their staff's.
Through the sessions and competitions, staffs interact with each other in an atmosphere outside of the classroom. SIPA's Got Talent on Friday night allows students to show off talents not normally revealed in a class period, and Saturday night, there is a banquet for staffs to attend. At the banquet scholarships and awards are awarded. After the banquet, there is a student dance that is well loved. Some even say the dance is the highlight of their journalistic careers.
On Sunday, there are a few more sessions and then an awards ceremony for publication evaluations, individual competitions, and the on-the-spot competitions. This ceremony is one of the essential parts of the weekend. It gives an award for the work the staff has put into its publication or production throughout the year. New members are also able to see these rewards as well.
Overall, SIPA is a great convention. It provides any staff with new tools through the classes and helps students bond outside of the classroom. For me, it has provided some of the best memories in my high school journalism career.
I learned important tools for my publications that I continue to use today. Along with tools, I also was able to connect with my classmates on a personal level outside of the normal classroom setting. SIPA definitely molded me into the student, journalist and person I am today.
Leave a Comment