NBCNews.com senior writer, former high school journalist to share experiences at SIPA Convention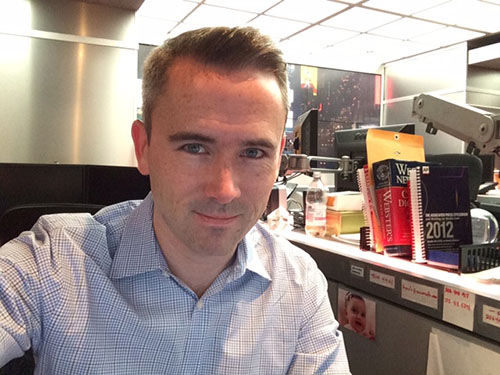 Since Erin McClam worked on his high school newspaper staff in the 1990s, scholastic journalism has changed as much as it changed his life and career. But, McClam said the key to success in journalism has not changed – reading great journalism.
"For me [writing] was a little like learning to play the piano by ear," McClam said in an email. You know what the music sounds like, and you peck away at the 88 keys until you can mimic that sound. So you're reading how a major newspaper or website covers a story, and you're absorbing, OK, this is how long a lead should be, this is where the quotes go, this is where the writer takes a step back to explain something. You read enough of that stuff and you start to know instinctively what a news story looks and feels and sounds like. There's no substitute. Read all the time. There's no substitute. Read all the time."
That has been McClam's trick from working on his school paper, The Stinger, at Irmo High School (Columbia, S.C.), through college to starting at the Associated Press.
"I was lucky enough to have four years of journalism classes available to me [in high school], so I started when I was a freshman."
He remembers deadline nights in high school, physically mounting the elements of the paper together, cutting pictures out with an X-Acto knife, and going home satisfied even later than midnight.
"I did as many jobs as I could — writing, editing, even cropping photos, which I'm sure nobody has to do anymore," McClam said.
McClam's high school journalism adviser and current SIPA and SCSPA director, Karen Flowers said, "It's such a joy for me to read the things he writes now and know that he got his start in high school journalism. I saw in him, at the beginning, an enthusiasm that was pretty rare in students."
McClam graduated from the University of Georgia with a degree in journalism and a minor in political science.
"Every part of the job in college was something that prepared me for the real thing," McClam said. "Getting up the nerve to ask questions of people who were smarter and more important than me. Writing and editing on deadline. Making mistakes and writing corrections. There is no part of the college experience that didn't inform me somehow in the real world."
Kevin Wuzzardo, McClam's fellow editor on The Stinger and classmate at UGA, said, "When we were in high school, he redesigned The Stinger so it looked almost professional. We went to college together at the University of Georgia. It wasn't long before Erin redesigned [UGA's] student newspaper, The Red & Black, so it looked better than most professional papers."
While attending UGA, McClam had a string of internships that helped prepare him for his career.
"I did internships all three summers in college," McClam said. "The most immediate thing was building clips — when I graduated, I had a clip file to show to the AP when I was trying to get hired. But, again, to spend two or three months surrounded by people who were making a living at this thing I loved to do, that was incredible. I was already in love with journalism, and the internships probably made me fall in love with journalists."
Almost immediately after his college graduation, McClam was hired by the Associated Press.
"A couple of weeks after I graduated, I started on Dec. 27, 1999. All anyone cared about for that first week was Y2K stories," McClam said.
One of the most exciting moments in news for McClam, then editing at the AP, was The Miracle on the Hudson.
"Nothing like that had ever happened," McClam said. "A passenger plane landing in a river within swimming distance of the island of Manhattan? And everybody survived? What? And the AP office is a couple of blocks from the Hudson River, so you could literally walk over to the window and see the story. There was the plane in the water! It was extraordinary."
After 13 years of editing and writing for the AP, McClam moved to NBC where he is now a senior writer for NBCNews.com.
"My job is usually to report and write on whatever the big stories of the day are," he said. "So that means most days I get to work at 7 a.m. and have no idea what I'm going to have written about by 4 p.m."
Recently, McClam covered news on the Ebola outbreak. While writing about the disease, McClam realized another important role journalism plays in society.
"Ebola has been different in that so much of the job is educating people," he said. "Journalists have a teaching role in that story. They also have a role in exposing people to the wider world and saying, there is very little to worry about in the United States, but, hey, look at this, thousands of people, real human beings with names and faces and feelings and families, are dying in Africa."
As McClam grows as a journalist and learns how his role affects others, the industry around him and the audience are also evolving.
"Everybody has gotten faster," McClam said. "I worked for a wire service out of college, so I was trained quickly on how to write on minute-to-minute deadlines. Now everybody has to do that because everybody is filing for online. And the other big part of it is social media. It's changed reporting, and it has changed, and is still changing, how we draw people to our stories."
What has not changed, in McClam's estimation, is the threat to a free press and First Amendment rights. McClam believes the 2015 SIPA Convention theme "Free the Press" applies to both professional and scholastic journalists.
"Journalists at every level are confronted by people who, for whatever reason, politics or ideology or whatever, are trying to stop them from committing journalism," he said. "That can be school administrators, that can be an office-holder who prosecutes leaks, and, in certain parts of the world, that can be regimes that endanger the lives of journalists. Someone is always trying to stop the press. Your particular battle may be small or large, but you will have to fight the battle."
As the Saturday morning keynote speaker at the convention, McClam hopes to discuss this, the value of reading and some of his own journalistic mistakes. He is excited to be back at the event that helped inspire his career and hopes to do the same for the next generation of journalists.
"There was something almost romantic about listening to people who were actually getting paid to do what I wanted to do," he remembers about SIPA. "I can't speak for the students who go today, but for me it was such a help to sit and listen to the pros."
Leave a Comment