Bradley Wilson named 2016 Endowment Speaker
story by Karie Grace Duncan
photos provided by Bradley Wilson
Award-winning journalism educator and scholastic media contributor Bradley Wilson will be honored as the third ­SIPA Endowment Speaker at the 2016 convention, March 4-6.
Wilson is an assistant professor at Midwestern State University in Wichita Falls, Texas, where he teaches reporting, writing and broadcast production and directs the student media.
Although Wilson cites time management as the key to success in his journalism classes, he says he also wants students to be able to find a great story.
"It's also critical that they learn how to get the story: where to go, who to talk to and how they can get a story out even when their initial stab doesn't produce much," said Wilson in an email. "Sometimes, the best stories are those that other people don't want told."
As director of student media, Wilson works closely with The Wichitan, MSU's weekly newspaper.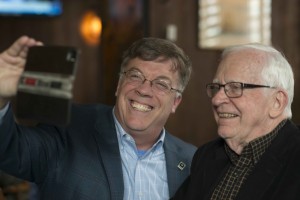 "Most members of our audience don't want to go get the news or to get the interesting stories," said Wilson. "They want those stories to come to them."
So, Wilson places importance on the use of multimedia and online content to attract The Wichitan's young, collegiate audience.
"When a person thinks of Bradley Wilson, he or she immediately thinks 'journalism.' He loves it, he lives it, he uses it as a life teaching tool," said Mary Inglis, SIPA Endowment co-chair. "His vision is far-reaching, and his practical teaching is solid. He is one of journalism's present-day giants."
Wilson said he has devoted himself to teaching journalism because he appreciates helping students decide what part they want to play in the world through scholastic media.
"It's an exciting time," said Wilson, "and being there when that light bulb goes off, when they realize how they can contribute to society both by being producers of high-quality media and by being educated consumers of the media is very rewarding."
While getting his doctorate in Public Administration at North Carolina State University in Raleigh, North Carolina, Wilson researched local government and media agenda setting.
"It's amazing how little we know about local media and the influences local media outlets have on local government," said Wilson.
From his research he learned how powerful the media can be, even on a local scale.
"Really, even the smallest of tweets under the right circumstances can make people aware of all the good things their elected and appointed officials are doing — or if they're doing something not-so-good," Wilson said. "And if reporters don't keep an eye on bureaucrats and politicians – even school board members and school administrators –, who will?"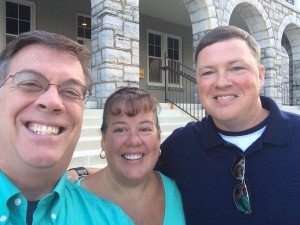 Although Wilson has supported organizations like SIPA for years to improve the quality of scholastic media, he finds it more important now than ever before.
"This is really an exciting time to be involved in the media," Wilson said. "There is so much bad information out there. It's the job of the journalist, regardless of the medium, to get information out there that people need to know."
While furthering the education of future journalists is why Wilson values scholastic media organizations, his favorite memories of SIPA are just hanging out with friends.
"I really enjoy judging things and comparing notes with other instructors, Wilson said. "I like just sitting in the lobby and chatting with students or walking down the street and taking photos of the Capitol."
Like the students who attend the SIPA convention, Wilson has his roots in high school journalism.
"As a freshman in high school, I had a choice between taking drama or advertising. In advertising, we got to go off campus during fourth period to sell ads," said Wilson. "That was an easy choice."
At West Lake High School in Austin, Texas, Wilson was on the El Paisano yearbook and Featherduster newspaper staff.
"I worked with some great student leaders, and they taught me what it was to be a leader. Plus, between journalism and band, I learned skills like time management and teamwork, skills that benefit anyone in any job."
As SIPA's Endowment Speaker, Wilson will teach a pre-convention workshop and three or four sessions as well as judge onsite competitions. He will also receive a plaque at the opening ceremony.
"The Endowment Speaker is someone who has contributed to SIPA for a number of years in multiple ways," said Leslie Dennis, SIPA director, "such as teaching at CJI, serving on the executive committee or being involved in SIPA activities."
Wilson first got involved with SIPA during his early collegiate years by teaching at the summer workshop, the Carolina Journalism Institute.
"Bradley supported SIPA as a member of the Executive Committee and as a speaker at numerous conventions and CJI," said Beth Dickey, SIPA director from 1973 to 2006.
"He is constantly teaching ethics in the classroom and through his posts on social media. He is an accomplished photojournalist, both as a practitioner and as a teacher. He enthusiastically supports local, regional and national scholastic media organizations. He's a winner!"
Wilson said he loves to teach any sessions that are useful to today's students, but he has a passion for photography.
"Most advisers come from an English background. So they are often less confident in their skills to teach photojournalism. So the students have a lot to learn, and those that want to absorb knowledge like sponges," said Wilson.
For Wilson, being Endowment Speaker is not just an honor but also a great opportunity to return to an area he called home for many years.
"I'm extremely honored for this recognition, but as much as that, I appreciate getting a chance to get back to the Carolinas," Wilson said.
"The state associations in states like Virginia, North Carolina and South Carolina help to produce some of the finest media advisers, college students and professional journalists out there."