2017 SIPA TOP Competitions
Hang on for a minute...we're trying to find some more stories you might like.
TOP (Team on-site production) competitions took place during a three-hour period on Saturday, March 4, at the 2017 convention. All teams had to produce their packages during the three-hour time period based on a prompt and from materials gathered at the SIPA convention. Click on the links to view the full packages each team produced.
Broadcast
Broadcast teams were asked to create a feature package based on the following prompt:
"Take a national or international issue and localize it for a high school audience. How does that issue affect students, and what are they doing about the issue at school or in the community? Examples include immigration, civic engagement, healthcare, First Amendment freedoms, fake news, education (voucher v. public), diversity and representation, etc. You can focus on how student journalists are covering this issue or how students are tackling this issue as individuals/a group."
Kiki Griffin and Lorena Limongi, Clarke Central HS (Georgia)
Lily Bruce-Ritchie and Kelly Fulford, Clarke Central HS (Georgia)
Megan Jones and Summer Osborne, Countryside HS (Florida)
Ally Patterson and Sydney Sigmon, Fort Mill HS (South Carolina)
Lane Imler and Sydney Miller, Fort Mill HS (South Carolina)
Zoe Cruz and Julian Masters, Fort Mill HS (South Carolina)
Michael Gross and Collett Davis, Hillcrest HS (Alabama)
Diondre Taylor and Marlee Ashcraft, Hillcrest HS (Alabama)
Kaliyah Reese-Stokes and Francisco Cruz, Hillcrest HS (Alabama)
DaViaire White and Randy Stone, Hillcrest HS (Alabama)
Sydney Godet and Bailey Tucker, James Island Charter HS (South Carolina)
Kayla Sobas and Cassidy Saidon, Nation Ford HS (South Carolina)
Logan James and Dana Berry, Nation Ford HS (South Carolina)
Malcolm Tyson and Wade Fletcher, Richland Northeast HS (South Carolina)
Tyler Wise and Sydney Tisdale, Richland Northeast HS (South Carolina)
Ann Bailey and Taylor Diamond-Seagriff, Summerville HS (South Carolina)
Jenna Sulkowski and Blake Ellis, Wando HS (South Carolina)
Mark Maddaloni and Connor Griffin, Wando HS (South Carolina)
Literary Magazine
Literary magazine teams were asked to write, edit, create and draw inspiration to craft artistic interpretations and content for a magazine spread from the following prompt:
"John Donne wrote, 'No man is an island, entire of itself; every man is a piece of the continent, a part of the main.' Drawing from the concepts of communities, change and connections, create a magazine spread that tells a story from your surroundings, whether that is the USC campus, Columbia, SodaCity Market or SIPA. Your spread should include both written (fiction, nonfiction, poetry, monologue) and visual (art, photography, mixed media) elements."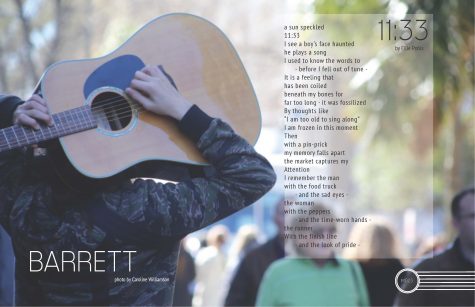 Ellie Pobis, Gracie Boyce and Caroline Williamson, Psyche, Richland Northeast HS (South Carolina)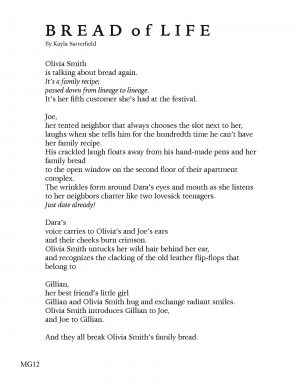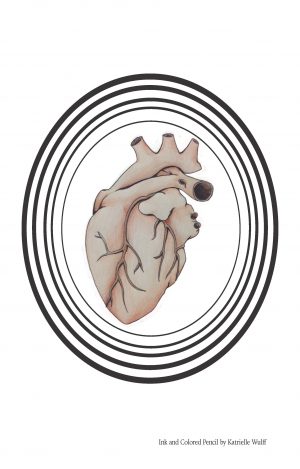 Katrielle Wulff, Kayla Satterfield and Zachary Schuck, Silhouette, Sparkman HS (Alabama)
Newspaper
Newspaper teams were asked to write, edit and design a single page (broadsheet or tabloid size) or spread based on the following prompt:
"Take a national or international issue and localize it for a high school audience. How does that issue affect students, and what are they doing about the issue at school or in the community? Examples include immigration, civic engagement, healthcare, First Amendment freedoms, fake news, education (voucher v. public), diversity and representation, etc. You can focus on how student journalists are covering this issue or how students are tackling this issue as individuals/a group."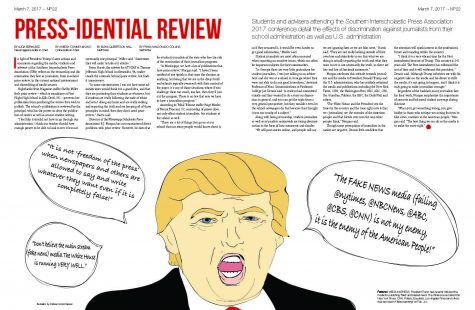 Lucia Bermudez, Aneesa Conine-Nakano, Elena Gilbertson-Hall and Prana Collins, Odyssey, Clarke Central HS (Georgia)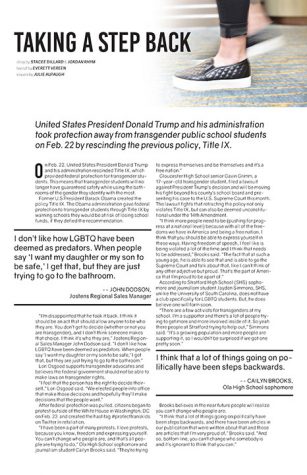 Jordan Rhym, Everett Vereen, Stacee Dillard and Julie Alpaugh, Odyssey, Clarke Central HS (Georgia)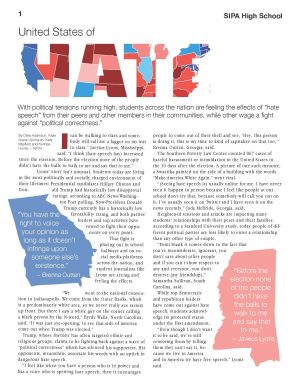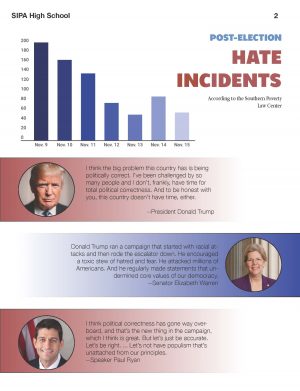 Delia Adamson, Katy Mayfield, Kate Grace Upchurch and Kennae Hunter, Odyssey, Clarke Central HS (Georgia)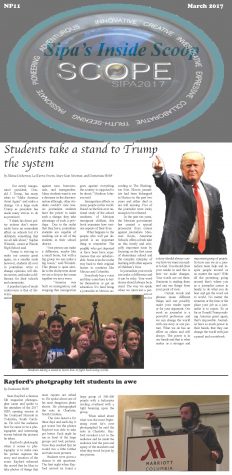 Elaina Dickerson, Mary Kate Newman, La'Keirra Owens and Dontavius Webb, The Commodore Cruiser, Lafayette HS (Mississippi)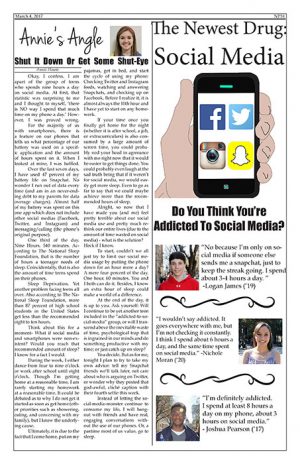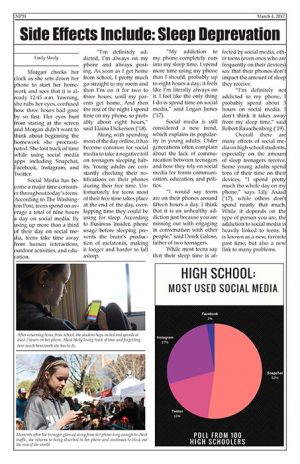 Emily Berrill, Emily Skroly and Alexa LaFranca, The Talon, Nation Ford HS (South Carolina)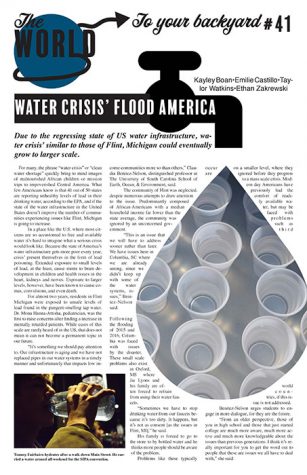 Taylor Watkins, Ethan Zakrewski, Emilie Castillo and Kayley Boan, Hoof Print, Ola HS (Georgia)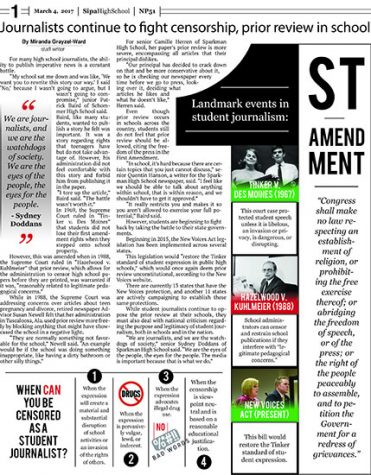 Davis McCool, Emma Scott and Caroline Crews, The Charger, Oxford HS (Mississippi)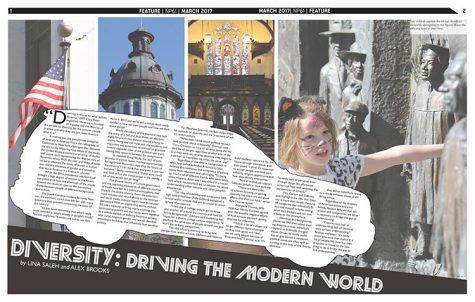 Casey Collins, Lina Saleh, Alex Brooks and Kate Baker, The Cavalier, Richland Northeast HS (South Carolina)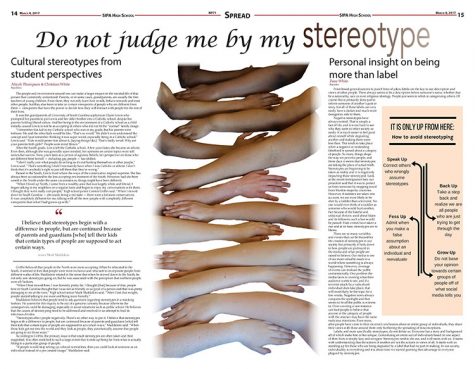 Emily Baucum, Zane White, Aliyah Thompson and Christian White, The Crimson Crier, Sparkman HS (Alabama)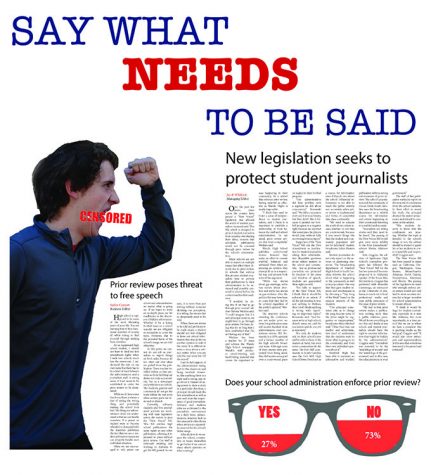 Natalie Craney, Saylor Cuzzort, Jacob Whitlock and Shelby Lopez, The Crimson Crier, Sparkman HS (Alabama)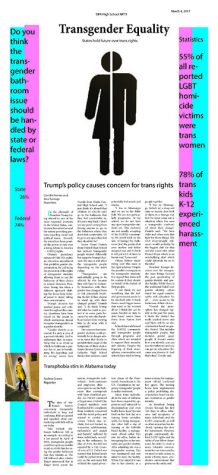 Sydney Goggans, Camille Herren, Andrea Graves and Jessica Turnage, The Crimson Crier, Sparkman HS (Alabama)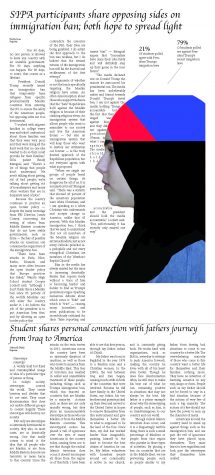 Griffin Gonterman, Kaylyn Jones, Sidney Al-di-jaili and Dannie Jo Grider, The Crimson Crier, Sparkman HS (Alabama)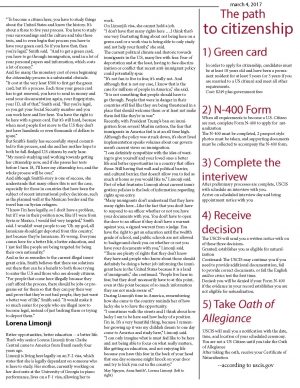 Francesca Mathewes, Patrick Aherne, Samantha Winn and Charlotte O'Neill, Tribal Tribune, Wando HS (South Carolina)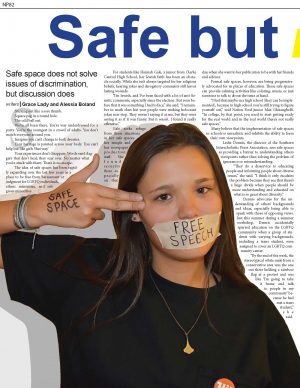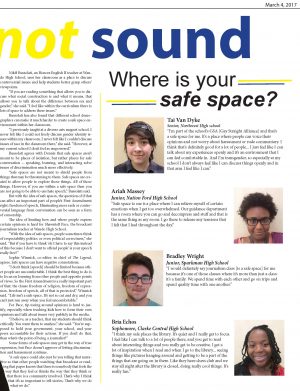 Erin Slowey, Grace Lady, Katherine Kollegger and Alessia Boland, Tribal Tribune, Wando HS (South Carolina)
Photography
Photography teams were asked to write captions, edit photos and create a gallery of at least eight photos (four from each member) based on the following prompt:
"COMMUNITIES – Tell a story using "communities" as your inspiration. For your photos, consider including different elements of your story. While the elements do not necessarily have to be sequential, you might want to utilize one or more of the following strategies for your photo story: A. Beginning/middle/end, B. Wide/medium/close up, C. A variety of subjects (all related to the story), D. A variety of composition rules."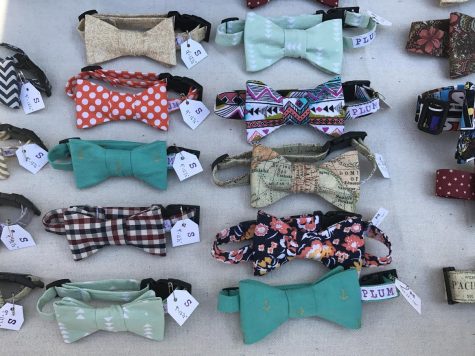 Olivia Ripps and Olivia Ngu, Clarke Central HS (Georgia)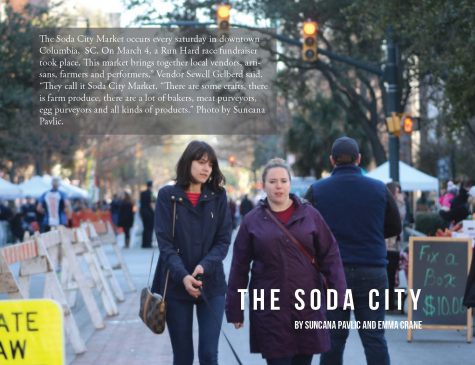 Suncana Pavlic and Emma Crane, Clarke Central HS (Georgia)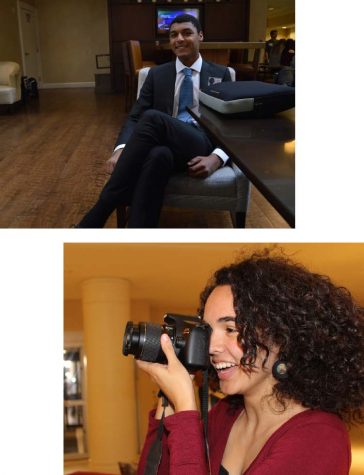 Hannah Gale and Jurnee Louder, Clarke Central HS (Georgia)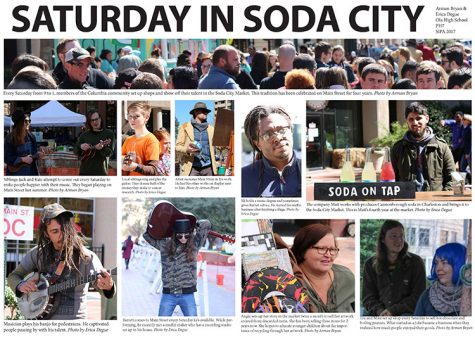 Arman Bryan and Makenzie Nolan, Ola HS (Georgia)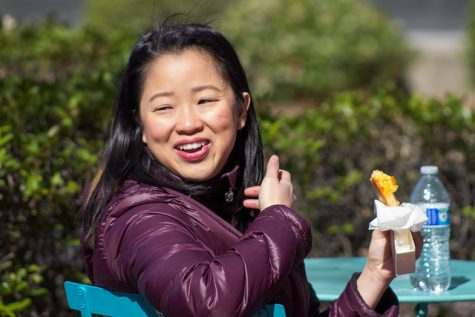 Maia McDonald and Kenedi Mitchell, Ola HS (Georgia)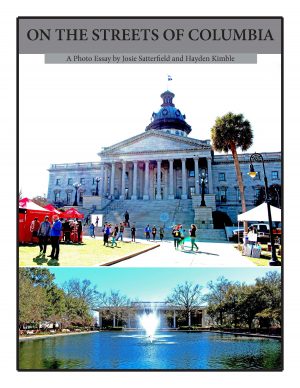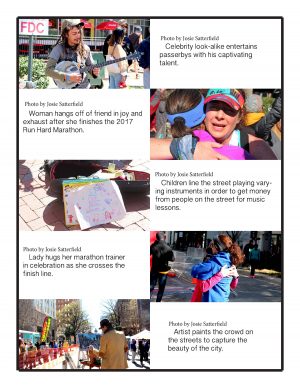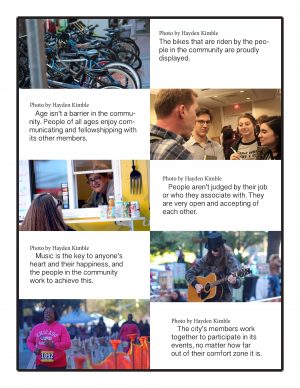 Ellie Chandler and Josie Satterfield, Ola HS (Georgia)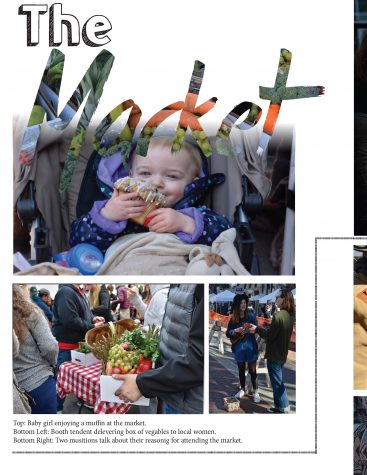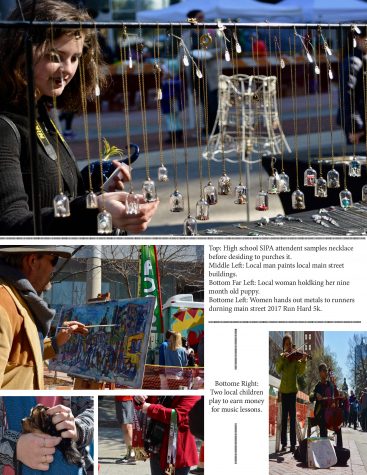 Kathleen Patton, Oxford HS (Mississippi)
Ella Rayl and Matthew Cao, Richland Northeast HS (South Carolina)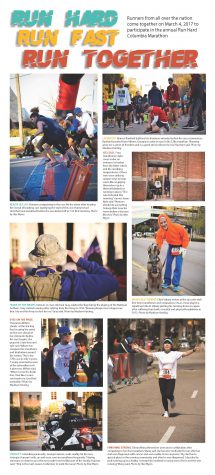 Mady Harding and Alex Myers, Sparkman HS (Alabama)
Yearbook
Yearbook teams were asked to write, edit and design a spread based on the following prompt:
"Take a national or international issue and localize it for a high school audience. How does that issue affect students, and what are they doing about the issue at school or in the community? Examples include immigration, civic engagement, healthcare, First Amendment freedoms, fake news, education (voucher v. public), diversity and representation, etc. You can focus on how student journalists are covering this issue or how students are tackling this issue as individuals/a group."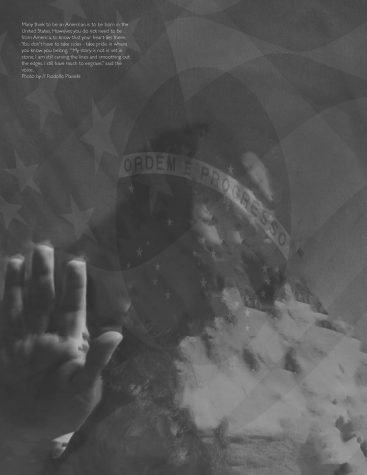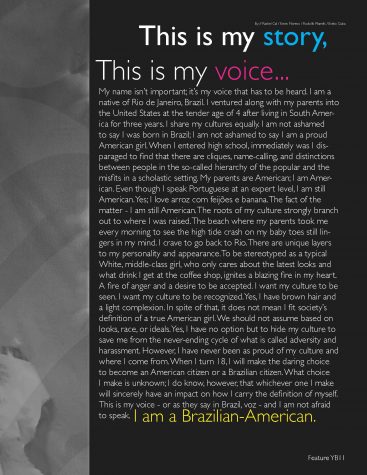 Evelio Cuba, Rodolfo Planells, Rashel Cal and Kevin Moreno, Entheos, G. Holmes Braddock Sr. HS (Florida)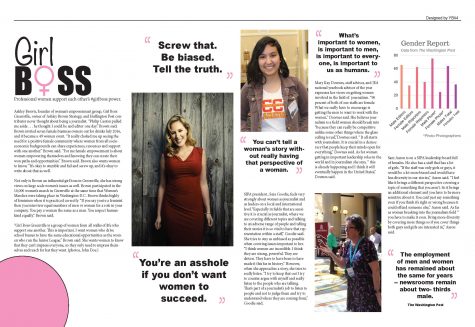 Brenna Outten, Bailey Cox and Jada McBride, Reflections, Ola HS (Georgia)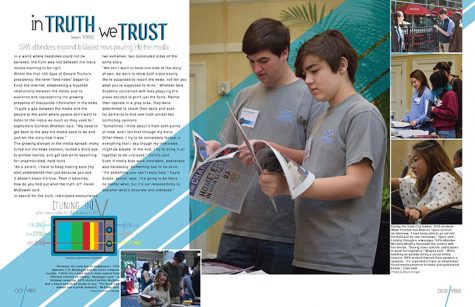 Allison Killinger, Robert Brook, Laurel Davis and Josh Pearson, The Archive, Richland Northeast HS (South Carolina)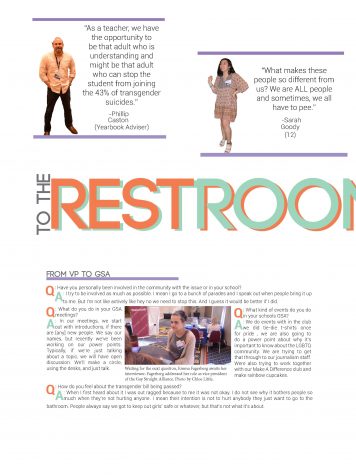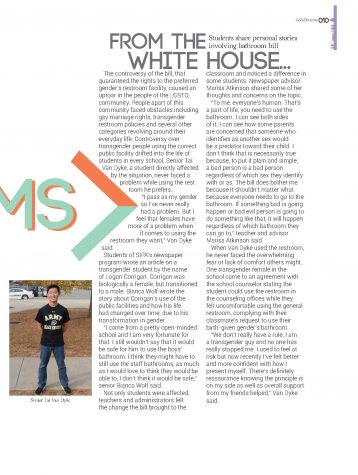 Cassie Chapman, Trinity Hammonds, Garrett Mitchell and Tyree Carter, The Senator, Sparkman HS (Alabama)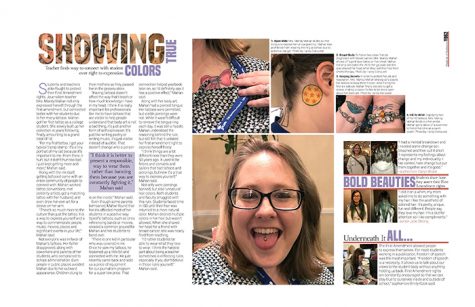 Rachel Hardaker, Hailey Conquest, Casey Harbin and Taylor Aronson, The Senator, Sparkman HS (Alabama)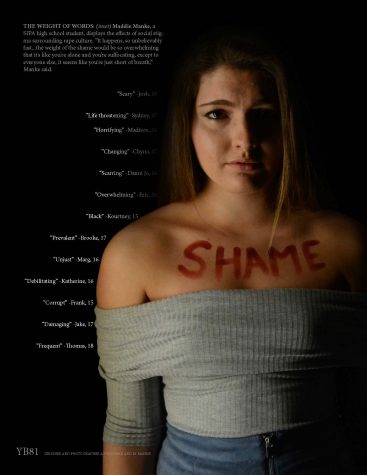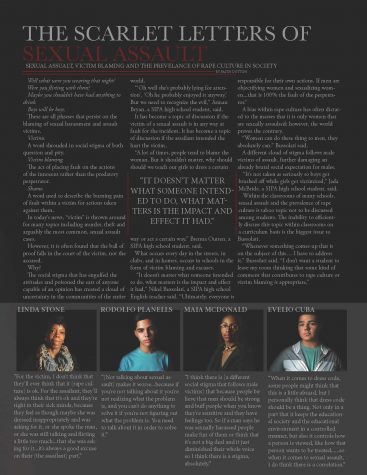 Abbey Byrd, Faith Dutton, Maddie Manke and Anna Perryman, Legend, Wando HS (South Carolina)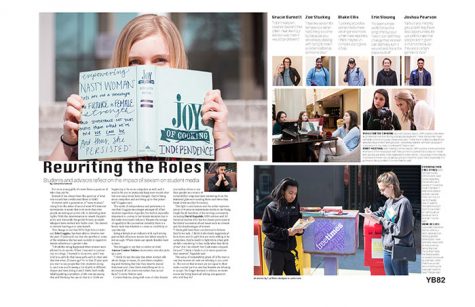 Brooke Fletcher, Samantha Sullivan, Frank Jeffries and Marguerite Peterseim, Legend, Wando HS (South Carolina)
Save