2019 SIPA TOP Competitions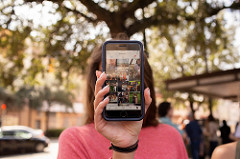 TOP (Team on-site production) competitions took place during a three-hour period on Saturday, March 2, at the 2019 convention. All teams had to produce their packages during the three-hour time period based on a prompt given to them Friday night and from materials gathered at the SIPA convention. Click on the links to view the full packages each team produced.
Broadcast
Broadcast teams were asked to create a feature package based on the following prompt:
"Time to hit the streets for a "Man on the Street"! Find a person or persons (a fellow SIPA attendee, a business owner, a group of musicians) you do not know and tell their story in a 1:30-3 minute personality profile or news feature. Make sure they are not from your school and their story has some human interest value. Ask the right questions, get relevant B-roll and get a secondary source or two."
View the full playlist now.
Olivia Duever and Dominic Bielli, Cedar Shoals HS (Georgia) – Best script
Ansley Guntermann and Alex Soto-Rosales, Cedar Shoals HS (Georgia)
Klara Lankford and Brooke Faysher, Cedar Shoals HS (Georgia)
Ava Adamson and Colin Frick, Clarke Central HS (Georgia)
Kelly Fulford and Natalie Ripps, Clarke Central HS (Georgia)
Courtnie Coffman and Courtney Smith, Fort Mill HS (South Carolina)
Wade Fletcher and Caleb Daniels, Richland Northeast HS (South Carolina) – Best overall
Gabrielle Greenley and Will Davidson, Richland Northeast HS (South Carolina) – Best videography
Jelanie Moore and Anna Tone, Summerville HS (South Carolina)
Finn Carlin and Amelia Walker, Wando HS (South Carolina)
Literary Magazine
Literary magazine teams were asked to write, edit, create and draw inspiration to craft artistic interpretations and content for a magazine spread from the following prompt:
"It is the 50th anniversary of the Tinker decision, ensuring the students do not lose their first amendment rights at the school house gates. Drawing inspiration from free expression and free speech, create a magazine spread that tells a story about raising your voice, someone speaking out or someone expressing themselves through art, music or some other form. Your spread should include both written (fiction, nonfiction, poetry, monologue) and visual (art, photography, mixed media) elements."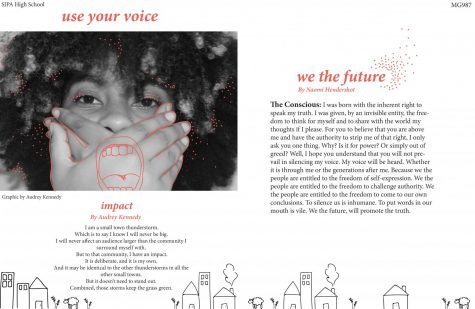 Elena Webber, Naomi Hendershot and Audrey Kennedy, iliad, Clarke Central HS (Georgia)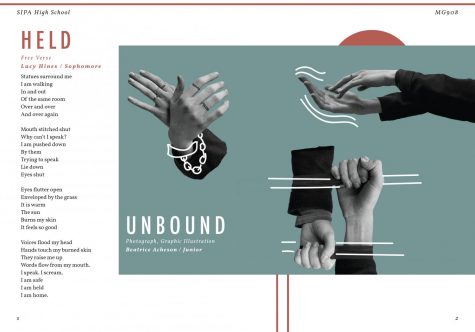 Beatrice Acheson, Lucy Hines, Georgia Blue Simmons and Lillian Sams, iliad, Clarke Central HS (Georgia)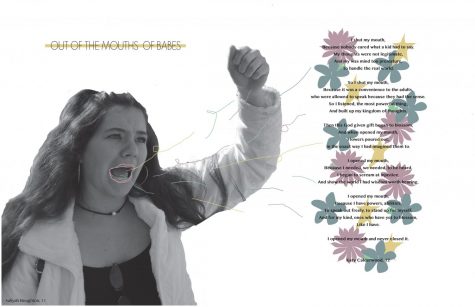 Aaliyah Boughton, Katy Calderwood and Emily Bone, Evoke, Oxford HS (Mississippi)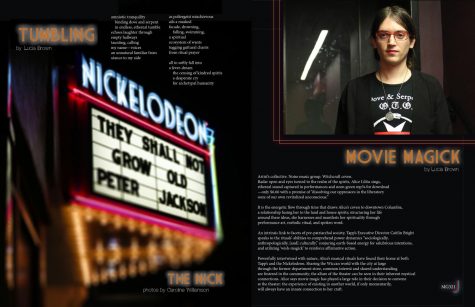 Lucia Brown, Gracie Boyce and Caroline Williamson, Psyche, Richland Northeast HS (South Carolina)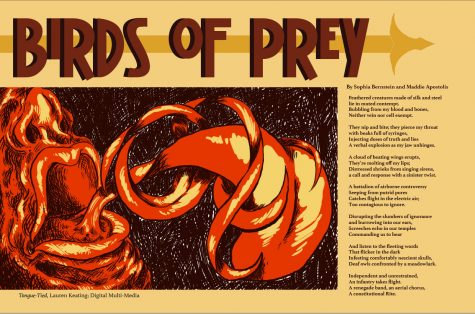 Sophia Bernstein, Lauren Keating, Maddie Apostolis and Caroline Hoy, The Outlet, Wando HS (South Carolina) – best written and visual elements and best overall
Newsprint
Newsprint teams were asked to write, edit and design a single page (broadsheet or tabloid size) or spread based on the following prompt:
"Time to hit the streets to find a person or persons (a fellow SIPA attendee, a business owner, a group of musicians) you do not know and tell their story. Make sure they are not from your school and their story has some human interest value. Create a single page (broadsheet or tabloid size) or spread based on this person's/persons' story.  The design can focus on the individual or on the topic/issue/quality that makes this story unique – just make sure it has a focus.  Ask the right questions, get relevant outside information and get a secondary source or two."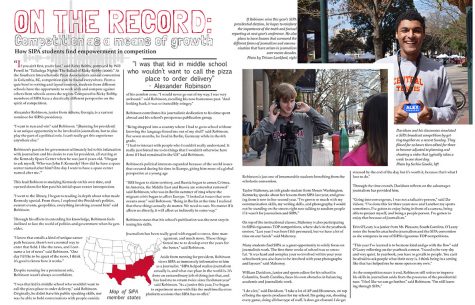 Sachio Goodie, Tristan Lankford, Trent Dennison and Tyson Jordan, BluePrints, Cedar Shoals HS (Georgia)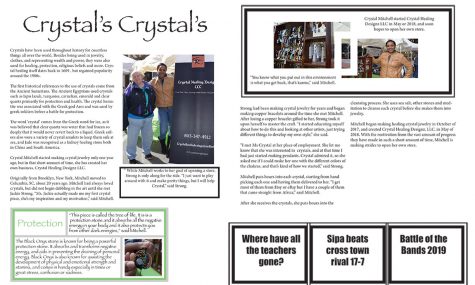 Emma Dowling, Daveon Montgomery, Jacob Castile and Denton Redmond, BluePrints, Cedar Shoals HS (Georgia)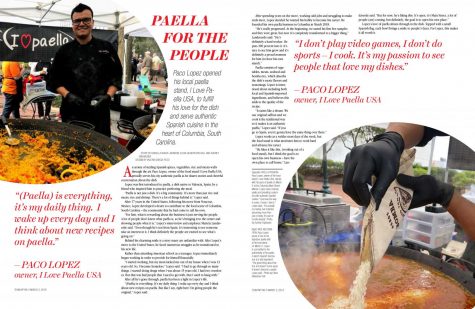 Valeria Garcia Pozo, Audrey Enghauser, Isabella Baker Johnson and Elena Gilbertson Hall, Odyssey, Clarke Central HS (Georgia)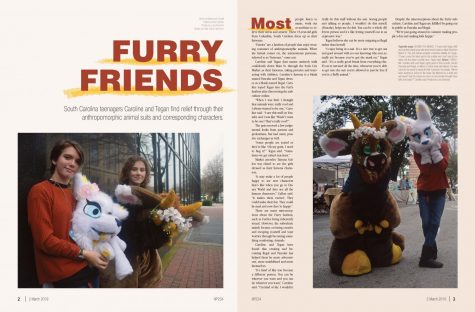 Katie Grace Upchurch, Mackenzie Caudill, Bria Echols and Luna Reichart, Odyssey, Clarke Central HS (Georgia) – best overall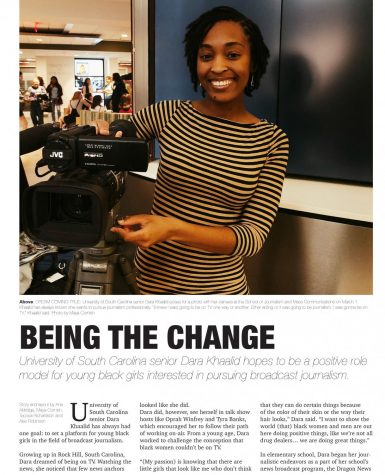 Ana Aldridge, Alexander Robinson, Tecoya Richardson and Maya Cornish, Odyssey, Clarke Central HS (Georgia)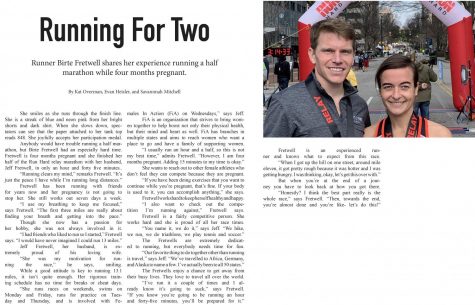 Kat Overman, Evan Heisler and Savannah Mitchell, The Talon, Nation Ford HS (South Carolina)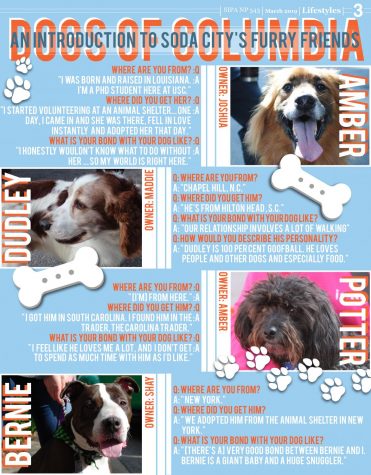 Lauren Bial, Livvy Cohen, Jess Edge and Klaria Holmes, The Charger, Oxford HS (Mississippi)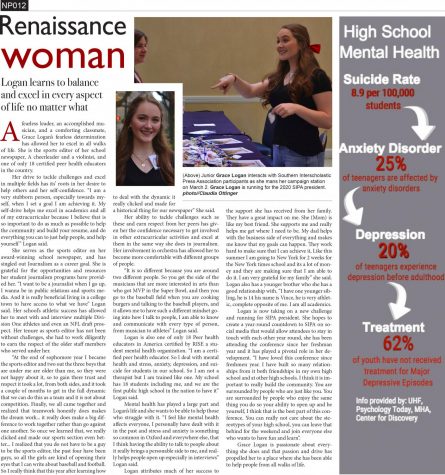 Cooper Lockett, Ben Wallace, Claudia Ottinger and Gustavo Martinez-Hernandez, Tribal Tribune, Wando HS (South Carolina) – best design
Samantha Garland, Haley Havelock, Sadie Allen and Abrielle Zelek, Tribal Tribune, Wando HS (South Carolina) – best story
Eva Chillura, Tyler Fedor, Jill Hethcox and Meagan Wooters, Tribal Tribune, Wando HS (South Carolina)
Photography
Photography teams were asked to write captions, edit photos and create a gallery of at least eight photos (four from each member) based on the following prompt:
"SOCIALIZE. Tell a story using socialize as your inspiration. For your photos, consider including different elements of your story. While the elements do not necessarily have to be sequential, you might want to utilize one or more of the following strategies for your photo story: A. Beginning/middle/end, B. Wide/medium/close up, C. A variety of subjects (all related to the story), D. A variety of composition rules."
Yearbook
Yearbook teams were asked to write, edit and design a spread based on the following prompt:
"Time to hit the streets to find a person or persons (a fellow SIPA attendee, a business owner, a group of musicians) you do not know and tell their story. Make sure they are not from your school and their story has some human interest value. Create a spread based on this person's/persons' story.  The spread can focus on the individual or on the topic/issue/quality that makes this story unique – just make sure it has a focus.  Ask the right questions, get relevant outside information and get a secondary source or two."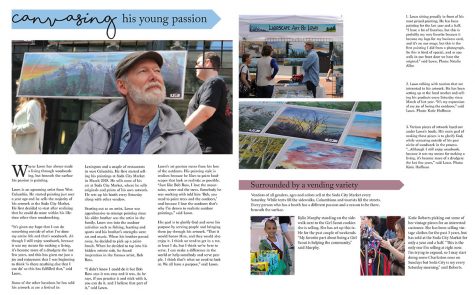 Katie Huffman, Mallory Roby, Jordan Galitsky and Alyssa Eddington, Endeavor, Bullitt East HS (Kentucky)
Tayler Mahoney Bailey Korfhage, Natalie Allen and McKenzie Siddens, Endeavor, Bullitt East HS (Kentucky)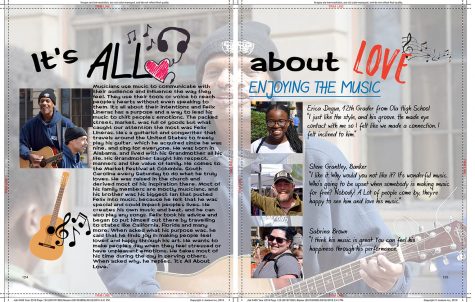 Kadeisha Camp, Leha George and Amy Sarr, Mirari, Cedar Shoals HS (Georgia)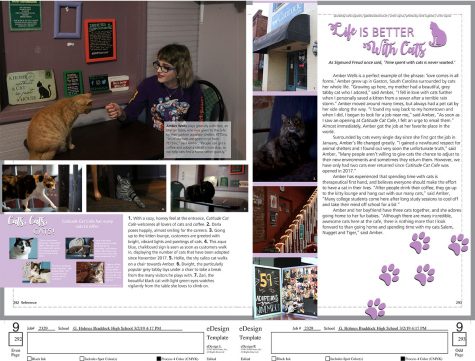 Gabriela Betancourt, Carla Lugones and Victor Cajina, Entheos, G. Holmes Braddock Sr. HS (Florida)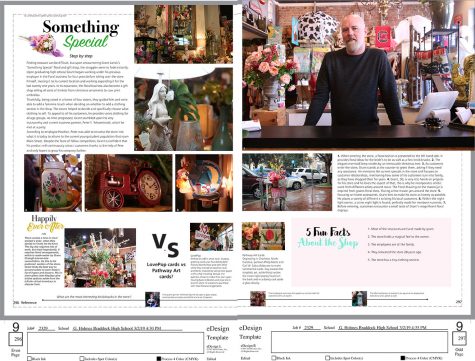 Vanessa Perez, Gillian Garcia and Joshua Gower, Entheos, G. Holmes Braddock Sr. HS (Florida)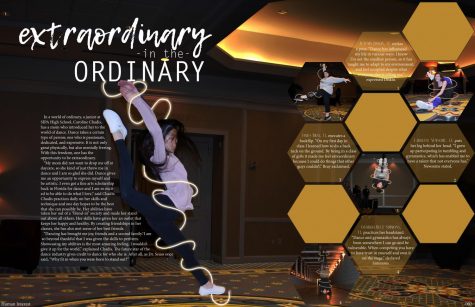 Morgan Key, Vanessa Velissaris, Caroline Miller and Kacy Lyvers, Talismann, J.L. Mann HS (South Carolina) – best design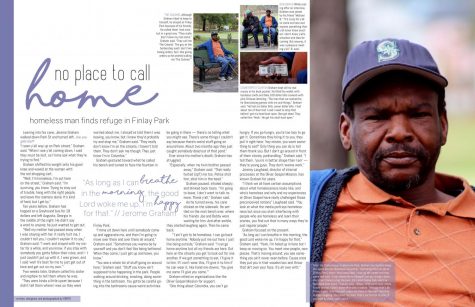 Laurel Davis, Hannah Shimmel and Kenya Sessions, The Archive, Richland Northeast HS (South Carolina) – best overall
Legare Kerrison, Katie Maxon, Olivia Potter and Yesmine Alston, Legend, Wando HS (South Carolina)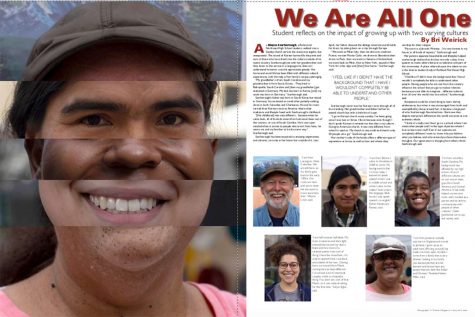 Olivia Wander, Erin O'Leary, Hope Lanier and Bri Weirick, Legend, Wando HS (South Carolina)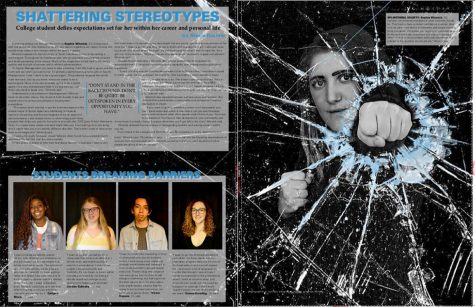 Merritt Redden, Alexis Kramer, Abby Reynolds and Abby Hricik, Legend, Wando HS (South Carolina) – best copy
Save