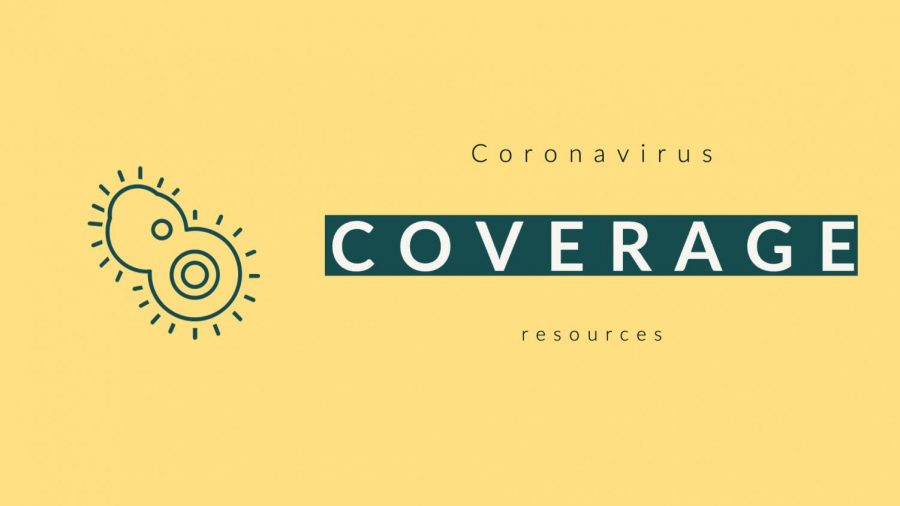 Even though students and teachers are not in the classroom, student journalists are still hard at work covering the COVID-19 pandemic. We have compiled a list of resources to help in that coverage. Also, we have a list of stories our members have created about COVID-19 and how the pandemic is affecting their community.
Coverage resources
Student Press Law Center – SPLC has compiled Frequently Asked Questions, resources and examples of student coverage. We hope this guide helps you to report on this complex and fast-moving story.
Student Press Law Center Coronavirus Toolkit – The coronavirus pandemic and resulting school closures are affecting student journalists and advisers in myriad ways. The Student Press Law Center has created a number of resources to help you cope with the problems you may face, as well as news coverage to keep you informed on the state of student media during this crisis.
Centers for Disease Control and Prevention Image Gallery – The newsroom image library is home to the images journalists request most often. These high-resolution, public domain images are ready to print in your publication.
John Hopkins University – this graphic has the latest numbers for COVID-19 cases, deaths, recoveries, and more — and it's all sorted by country and/or state and province. Importantly, it also updates in real-time, so you always know you are getting the latest numbers.
Visual Capitalist: History of Pandemics – In this infographic, we look at the data to show you the history of pandemics — all the way from the Black Death to how the current COVID-19 situation. It helps give the historical context on how bad a pandemic can be. It's also updated every day so you can see how COVID-19 compares to the impact of these previous events.
Financial Times – features various charts and tables on the countries affected, as well as ongoing assessments on the economic damage caused by the virus. Like many of the other COVID-19 resources featured on this list, it is updated on a daily basis.
Our World in Data – this research page has tons of stats, citations, and data for those that want to dive deeper into the situation. It's also updated very regularly.
NYTimes – In this lesson, students will learn about the Coronavirus using Times photographs, graphs and articles.
NBC News – NBC News asked every state health department how it is handling testing for coronavirus. Read our guide for information about your state.
Forbes -Nine tips to be productive when working at home during COVID-19
NPR – everything you need to know about the global outbreak
The Washington Post – The Washington Post's resource box on all things dealing with COVID-19/Coronavirus
NYTimes The workers who face the greatest risk – Graphic: As the Coronavirus continues to spread throughout the United States, people with jobs that put them in physical contact with many others are at the greatest risk of becoming sick.
Cleaning during the Coronavirus – A new study measured the life span of the novel Coronavirus on surfaces. Here's what they found, plus expert advice for cleaning the stuff you touch.
BBC – How to clean your smartphone safely
Cleveland Clinic Newsroom – Sound bites from Cleveland Clinic experts, b-roll from testing, broadcast packages
Wired – No Purell? No problem! When disinfecting gel sells out everywhere, you can just make some yourself with stuff you (maybe) already have at home.
Vox – 11 charts that explain the Coronavirus pandemic
OSHA – This webpage provides information for workers and employers about the evolving coronavirus outbreak. The information includes links to interim guidance and other resources for preventing exposures to, and infection with, the novel coronavirus—now officially named COVID-19.
World Health Organization – WHO offers all types of information on COVID-19, including travel advice, how to protect yourself, current research and specific media resources (videos, audio and transcripts).
CDC Coronavirus Info – Coronavirus disease 2019 (COVID-19) is a virus identified as the cause of an outbreak of respiratory illness first detected in Wuhan, China.
The Washington Post graphic simulation – The early trickle of new Coronavirus infections has turned into a steady current. By creating simple simulations, we can see how to slow it down.
Member coverage
Bison Beat, Buffalo HS (Texas)
Buffalo ISD joins COVID-19-inpsired closures
Coppell Student Media, Coppell HS (Texas)
Making the best of break
Forming connections over love of artist
International IB exams canceled for 2020 Diploma, Course Certificate candidates
College Board to implement home testing for AP exams
COVID-19 pandemic shuts down local entertainment culture, brings struggles for eatery owners
Athletes utilizing resources to stay fit without school practice
Coppell sports suspended amid COVID-19 concerns
International SAT, ACT exams postponed due to COVID-19
Texas suspends STAAR testing requirements for 2019-2020 school year
Letter from the Editor: Issuing the truth in the midst of confusion
CISD closing in response to coronavirus
Prom latest event to cancel due to COVID-19
"CRN-TV," Catawba Ridge HS (South Carolina)
March 16 episode
March 17 episode
March 18 episode
March 19 episode
March 20 episode
March 23 episode
March 24 episode
March 25 episode
March 26 episode
March 27 episode
ODYSSEY Media Group, Clarke Central HS (Georgia)
Clarke County School District offers free student meals during  COVID-19 closure
Various local and state educational institutions close their doors in response to COVID-19
Carr on Par Episode 4 – COVID-19 Conversation with Owen Donnelly
NightHawk Newsmagazine online, First Flight HS (North Carolina)
Cancellations spike due to coronavirus: spring musical and sports put on hold
Commentary: Senior year scare dashes dreams
Commentary: Saving the world has never been this easy
HHSmedia, Harrisonburg HS (Virginia)
Harrisonburg braces for coronavirus
HCPS releases meal plans for students in response to schools closing
Comcast gives two months of free WiFi to eligible students
Q&A with Principal Melissa Hensley about Harrisonburg HS's coronavirus closure
BREAKING: All Virginia schools closed until March 27
COVID-19 offers Osinkosky room for improvement
Shakoor feels effects of COVID-19 with schools, trips
Walton adapts to at-home learning
VHSL releases new information in response to school closings
Boys 4×800 team reacts to cancellation of New Balance Nationals
The Southerner online, Henry W. Grady HS (Georgia)
Coronavirus impacts students' families abroad, travel plans
School closed "at least two weeks" due to COVID-19
The Shield Online, McCallum HS (Texas)
The last #dayinthelifeatmac for a while
COVID-19 wreaking havoc on 2020 election
City issues stay home order to stop coronavirus spread
A Sunday stroll on a desolate campus
Hosack discusses COVID-19 concerns, current plan for senior class events, rest of school year
Mac alums adapt to year disrupted by COVID-19
To thwart COVID-19, AISD extends spring break as it plans to transition to distance learning
First cases of COVID-19 confirmed in Austin
COVID-19 measures put Mac sports on hold
Amid Coronavirus fears, city cancels SXSW
Coronavirus fears affect Mac community
Concern over COVID-19 outbreak prompts cancellation of band, color guard events
City bans gatherings of 250 or more through May 1
Austin restaurants brace for COVID-19 economy
How to cure the COVID-19 quarantine blues
Northwest Horizons online, Northwest Guilford HS (North Carolina)
All NC schools are closed due to COVID-19
Coronavirus wreaks havoc on Guilford County
HoofPrint, Ola HS (Georgia)
Community urged to take precautions
Global coronavirus impacts daily life
COVID-19 prompts school closures
Senior year timeline: expectations vs. reality
TRNwired, Prince George HS (Virginia)
School systems react to COVID-19
Senior seasons in limbo
Eagle Nation Online, Prosper HS (Texas)
PISD extends spring break amid COVID-19 pandemic
"RNE-TV," Richland Northeast HS (South Carolina)
March 27: Quarantine Show
The Prowler, Starr's Mill HS (Georgia)
Georgia's standardized testing falls victim to COVID-19
The week's infected headlines
tjTODAY, Thomas Jefferson HS for Science and Technology (Virginia)
Goal-setting amidst no school
Ten websites to visit over corona-cation
Dr. Brabrand hosts live COVID-19 Q&A
Netflix K-dramas to check out over coronabreak
Coronavirus cancellation: better safe than sorry
College Board cancels next SAT administration
Keeping clean during the coronavirus outbreak
Continuing  COVID-19 updates
FCPS cancels all international field trips
College Board changes AP testing
Top ten activities to do during corona-cation
Japanese exchange program cancelled due to COVID-19
Tribal Tribune online, Wando HS (South Carolina)
Daily COVID-19 updates
Wingspan online, West Henderson HS (North Carolina)
Top 10 ways to beat break boredom
Coronavirus leads NC schools to close
Top 10 shows to keep you sane during social distancing