2020 SIPA's Best Writing Contest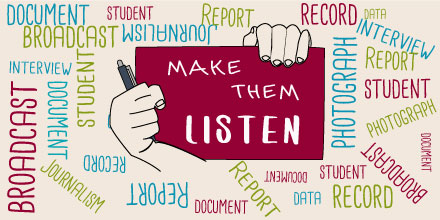 Broadcast
Academic Script
News Script
PSA
Sports Script
Literary Magazine
Drama
First Place – Trinity Hutzler, "Tribe Talk," Wando HS
Fiction
Non-Fiction
Poetry
First Place – Charlotte Pollack, Voices, Nation Ford HS
Second Place – Grace Lang, iliad, Clarke Central HS
Third Place – Alexandra Cardona, Voices, Nation Ford HS
Review
Newsprint
Editorial Column
Judge's comments: I am impressed with the quality of the editorial columns I read. The topics were timely, showed evidence of research. Some were localized, with interviews from teachers and community leaders, and that helped them rise to the top. The winners addressed their high school audiences. The writing was clear and grammatically correct.
Staff Editorial
Entertainment/Feature Column
Judge's comments: From the lede, the writer draws in the reader with her creative storytelling style. She structures her sentences almost like rhythmic beats that convey an urgent and stressful tone. Her account articulately details the range of emotions – from excitement to fear and sadness – that accompanied her journey, providing valuable insight into the immigrant experience.
Feature Story
News Feature
News Story
Personality Feature
Review
Sports Column
Judge's comments: This column is a wonderful mix of fact and opinion, statistics and storytelling. You made me LOL with the line about you and your parents figuring out you were not an athlete! It's fun that you found your place as a runner, and sharing your story in this way doubtless gave your readers something to think about in their own athletic journeys.
Sports Feature
Sports Story
Judge's comments: This sports news piece on athletes battling heat advisories included great sourcing, details and quotes from a wide variety of people. Kudos as well for going with a straight news lede about a serious topic. We love writing scene-setters and anecdotal ledes for everything, but sometimes the summary news lede still works best!
First Place – AJ Carr, ODYSSEY newsmagazine, Clarke Central HS
Second Place – Julia Kay Smith, The Shield, McCallum HS
Third Place – Megan Harkey, Northwest Horizons, Northwest Guilford HS
Online
Alternative Storytelling
Blog
Features
First Place – Marisa Salazar, The Dispatch online, James Bowie HS
Second Place – Helen Moore, The Southerner online, Henry W. Grady HS
Third Place – Roxanne Domizi, ODYSSEY Media Group, Clarke Central HS
Investigative Story
News
Personality Feature
Reviews
Sports
Photo Cutlines
Feature Cutline
News Cutline
Sports Cutline
Yearbook
Academic Copy
Ads/Community Copy
Groups Copy
People Copy
Sports Copy
Student Life Copy
Theme Copy
First Place – Rylie Jones, The Knight, McCallum HS
Second Place – Gracie Boyce and Laurel Davis, The Archive, Richland Northeast HS
Third Place – Kaleigh Mullis, Kaleidoscope, Lugoff-Elgin HS